Tree Dimensional Tunes
Maarika & Frocodiles
13.12.2019 at 21h Black Box, Musiikkitalo
CLICK to PHOTO GALLERY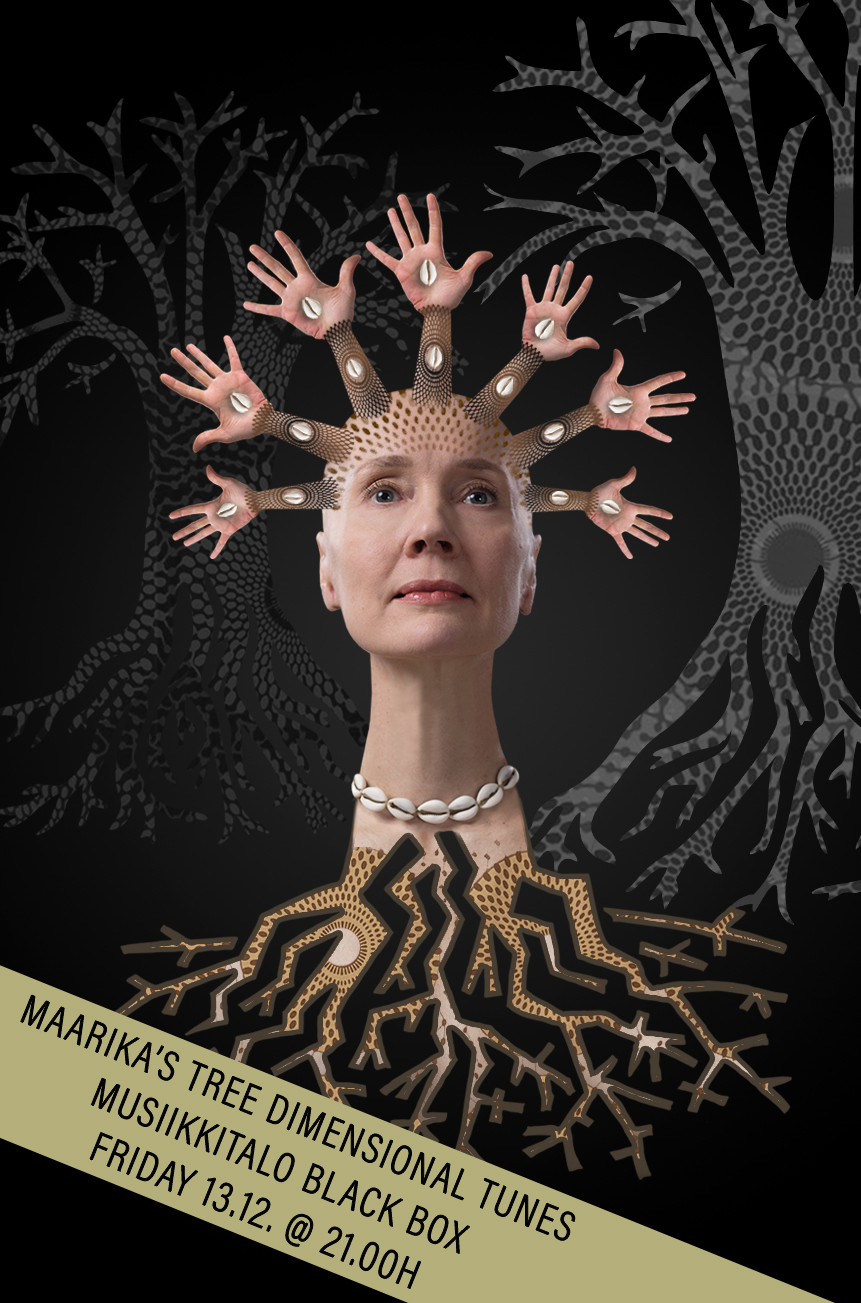 West-African balafon and kora's history is full of magical legends, and this concert proves that their story is far from told. Music performed will stretch their expressive boundaries from traditional safegrounds into previously unheard of dimensions, still nurturing the distinctive character developed over the centuries.
Frosty Crocodiles a.k.a. Frocodiles, Maarika's partners in crime, are a stunningly skilled bunch of musicians. Concert set list is a first tasting of what lies ahead: Frocodiles will publish their first album during 2020. Be sure to get your copy early!
MUSICIANS:
Maarika Autio – balafon, kora, vocals
Repkat Parhat – guitar
Christopher Rodulfo – percussions
Kaisa Siirala – saxophone, flute, vocals
Vasileios Katopodis – bass
GUESTS:
Cheick Cissokho – djembe
+
Teho Majamäki – assistance in live sound effects
All music composed, arranged and lyrics written by Maarika Autio, with the exception of Famadinke's chord progression (trad. Guineen), 1st part of Aamuruuhka (trad. Bulgarian) and 3rd part of Aamuruuhka (co-composed with Stiliana Ravelska).
LIST of SONGS
PISAROILLA | DROPLETS
I am your dream, a reflection on still water. You row, early in the morning, and break me with droplets. I am a door with golden hinges. You open me, walk through me – and forget me in seconds.
FAMADINKE
Don't cry, little child. Life is what it is, things will brighten up.
YAAY BAAL MA
"You seem familiar. The tone of your voice, the sadness in your eyes… You remind me of my youngest daughter. But that one, she's always traveling. If you see her, please say hi from mom." Song for mothers with fading memories.
SIKIN SOKIN
"You were the brightest flame, dying out far too soon. My world has been a mess ever since." Song for a dearly missed friend.
SOUMAWORO KANTE
Sorcerer king by the name of Soumaworo Kanté built the first balafon around 1203. So blinded was he by this awesome, magical instrument, that he completely ignored the warnings of the spirits, telling him not to use its powers for evil purposes.
MANDE MATHEMATICS
"Kilin, fula, saba, naani, luulu." Learn how to count to five in Mandinka.
UUPUU
Words are not enough. Only music can describe my feelings when I look at you.
Background photo © Jari Flinck
.